Lucky Won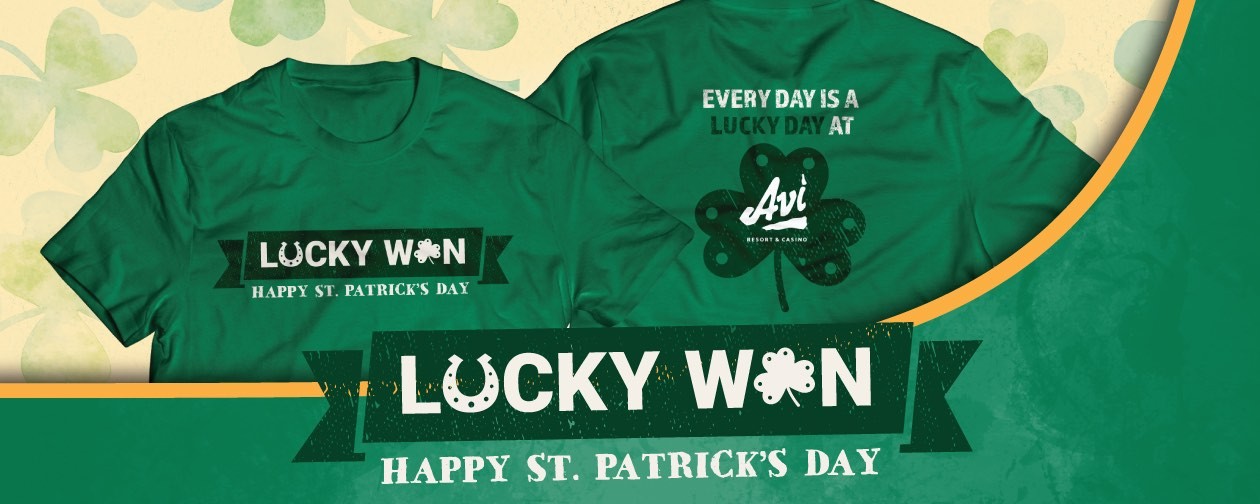 This promotion expired on March 18th, 2021
Come down to Avi this St. Patrick's Day, March 17th, from 10AM – 8PM, and earn a T-Shirt and a chance to win up to $250 in Free Play!
Earn 500 base slot points from 12:01AM – 8PM on Wednesday, March 17th, to earn your T-Shirt and chance at Free Play. Every additional 500 base-points earns you an additional swipe and T-Shirt. Limit of 5 swipes & 5 T-Shirts per guest.
Qualified players must present their kiosk voucher, valid photo ID, and myAdvantage club card to a representative at the business center (located in front of the ballroom entrance) to receive a T-Shirt.
Promotion is while supplies last. Swipes for a chance to win up to $250 in free play is still available should T-Shirts run out.
Rules & Regulations

How to Participate: Bonus - up to $250 Free Play – Pot of Gold Kiosk Game
• Promotion is available to myAdvantage club members who earn 500 base slot points within the promotional day.
• Players will swipe their myAdvantage club card and insert their pin number.
• Players will select the promotions tile and select the "Pot of Gold" tile.
• Players will select one out of five pots of gold on the screen.
• The selected pot of gold will reveal the prize won.
• Players will receive a "Thank you for playing" which is not a winner or "Congratulations! You have won $ 50 - $250 in Free Play".
• All swipes are not a winner. Players are eligible to swipe (5) times on the promotional day.
• Limited prizes will range from $50 - $250 in Free Play.
• Free play will be downloaded to the players account immediately following swipe and will be valid for 72 hours upon activation at slot machine.
• Maximum of (5) swipes on the assigned promotional day.